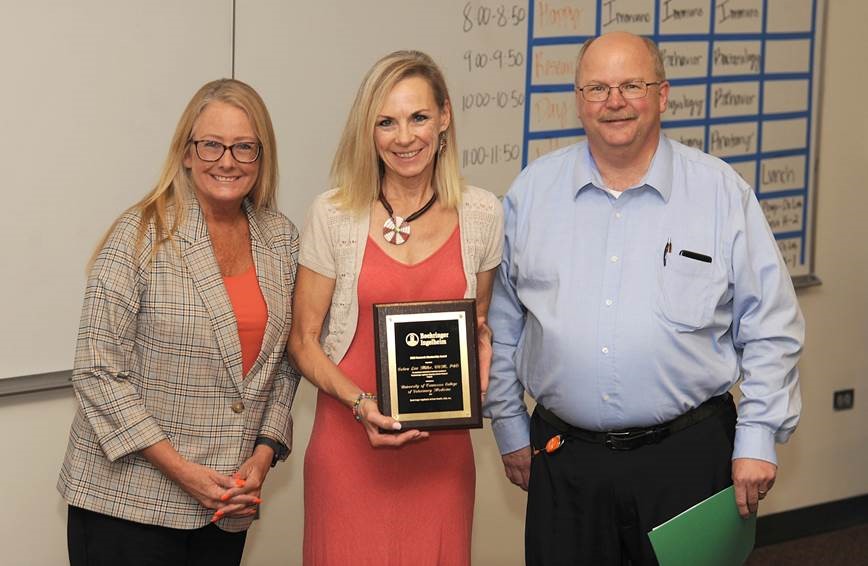 The UT College of Veterinary Medicine (CVM) held its annual Research Day on Monday, September 19, 2022. During the opening ceremony, Dr. Debra Miller was awarded the Boehringer Ingelheim Faculty Research Mentoring Award.
Dr. Miller is Professor and Director of the Center for Wildlife Health in the University of Tennessee Institute of Agriculture. Dr. Miller also serves as the Director of the UT One Health Initiative. She has a split appointment between the CVM and the Department of Forestry, Wildlife and Fisheries. Her research focuses on amphibian diseases including hellbender salamanders and sea turtles.
---
This award, sponsored by Boehringer Ingleheim, recognizes excellence in graduate student mentoring by faculty in the CVM. The recipient of this award is nominated by graduate students in appreciation for the time and dedication faculty devote to their development.
Research day was founded by CVM's Comparative and Experimental Medicine graduate program in 2007. Its goals are to:
Provide a venue for students and new investigators to gain experience showcasing their work as oral presentations, and
Gather UTCVM investigators with related and varying interests to provide opportunities for the creation of new ideas, collaborations, and networking that will enhance health-related research.​
Click here for a list of previous award winners.