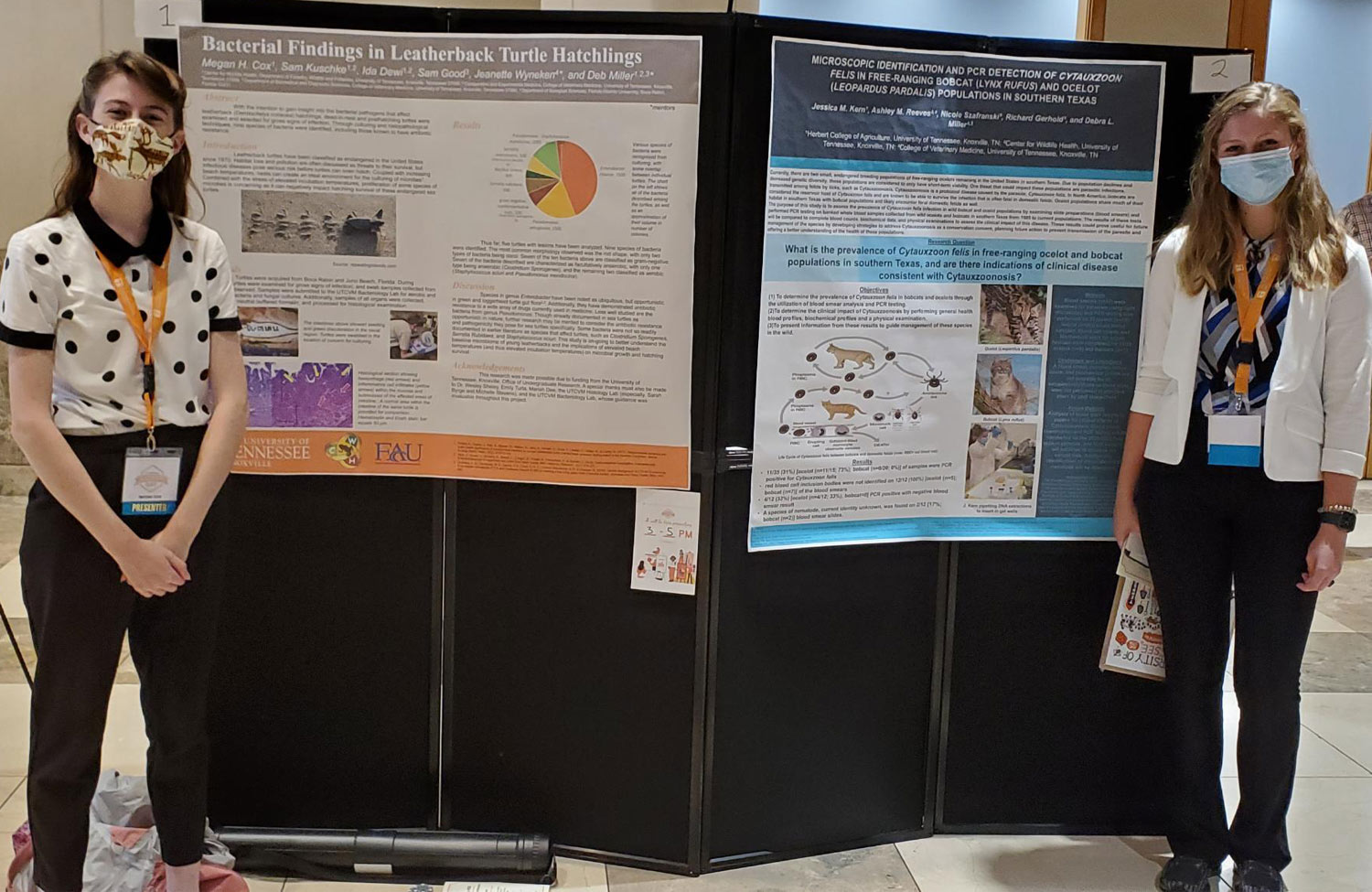 Two undergraduate students involved with the Center for Wildlife Health shared poster presentations at UT, Knoxville's Discovery Day, held at Hodges Library. Discovery Day is a chance for students to learn more about and get involved with undergraduate research at the University of Tennessee.
Megan Cox, a pre-vet student majoring in animal science, presented a poster titled, "Bacterial Findings in Leatherback Turtle Hatchlings." Working with Drs. Deb Miller and Jeanette Wykeken, Megan's research is working to gain insight into the bacterial pathogens that affect leatherback (Dermochelys coriacea) hatchlings. In this study, dead-in-nest and post-hatchling turtles were examined and selected for gross signs of infection. Through culturing and histopathological techniques, nine species of bacteria were identified, including those known to have antibiotic resistance.
Jessica Kern, also a pre-vet student majoring in animal science, presented her poster titled, "Microscopic Identification and PCR Detection of Cytauxzoon felis in Free-Ranging Bobcat (Lynx rufus) and Ocelot (Leopardus pardalis) Populations in Southern Texas." Working under Drs. Deb Miller and Ashley Reeves, Jessica is studying the two small, endangered breeding populations of free-ranging ocelots remaining in the United States in southern Texas. Due to population declines and decreased genetic diversity, these populations are considered to only have short-term viability. One threat that could impact these populations are parasitic infections, transmitted among felids by ticks, such as Cytauxzoonosis. Cytauxzoonosis is a protozoal disease caused by the parasite, Cytauxzoon felis. In North America, bobcats are considered the reservoir host of Cytauxzoon felis and are known to be able to survive the infection that is often fatal in domestic felids. Ocelot populations share much of their habitat in southern Texas with bobcat populations and likely encounter feral domestic felids as well.
The purpose of this study is to assess the prevalence of Cytauxzoon felis infection in wild bobcat and ocelot populations by examining slide preparations (blood smears) and performed rolymerase chain reaction (PCR) testing on banked whole blood samples collected from wild ocelots and bobcats in southern Texas from 1985 to current populations. The results of these tests will be compared to complete blood counts, biochemical data, and physical examinations to assess the clinical impact of this disease. These results could prove useful for future management of the species by developing strategies to address Cytauxzoonosis as a conservation concern, planning future action to prevent transmission of the parasite and offering a better understanding of the health of these populations.